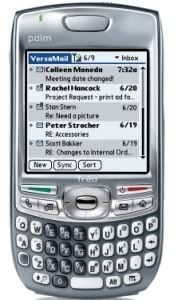 Ever since I heard about Palm's newest smartphone, the Palm Treo 680, from a friend who used to edit an info-tech publication, I've been regularly checking Google News for latest news on this "delicious" gadget.
I was not expecting the Treo 680 to be available in the Philippines until early next year, so I was surprised when my friend received this morning a press invitation for the Philippine launch of Treo 680. The invitation said:
It's time to expect more from your phone.

You are cordially invited to join us in this exciting event as we unveil the latest addition to the Treo family–everything your next phone should be.
The launch will be on November 29 at a mall in Makati City.
For those who are curious, here are the features of Treo 680, lifted from the Palm website.
Phone—enjoy easy-to-use features such as multi-party conference calling and speakerphone.

Email—send and receive email from corporate and personal email accounts, including AOL, Gmail, and Yahoo!.

Web—download web sites fast using the award-winning Blazer® web browser. With a convenient touchscreen, it's on-the-go web access you'll actually use.

Messaging—fire off a text message, or send photos and videos complete with audio captions. Plus, see the whole conversation in a chat-style view.

Multimedia—snap photos, create slideshows, shoot video, play songs. Even record your own ringtones.

Built-in Organizer—be as together as you want to be with your calendar, contacts, to-do list, and memos right at your fingertips.

Documents to Go®—download, view, and edit Word and Excel® compatible files, rehearse a PowerPoint® presentation, even review PDF files.

Bluetooth® Technology—connect to GPS, headsets, car kits and more all without wires getting in the way.

Dial-up Networking—use your smartphone as a wireless modem for your laptop.

Palm OS® Applications—choose from any of the thousands of titles to add to your Treo 680, from cool games to productivity tools.
It was announced in the US last October, and the Palm website started accepting orders for US-based customers yesterday. The prices announced on the site were $199 USD/ESP for Cingular Wireless and $399 USD/ESP for an unlocked unit.
---
Ederic is a Filipino communications worker in the telecom, media, and technology industry. He writes about K-dramas and Korean celebrities for Hallyudorama.
He used to be a social media manager for news at GMA Network, where he also headed YouScoop, GMA News and Public Affairs' citizen journalism arm.
He was with Yahoo! Philippines for more than three years before returning to GMA Network, where he was also previously part of the News Research section.
Author posts