Because my Palm m515 didn't have direct connection to the Internet, I wanted to find a way how I could compose entries on my Palm and have these automatically posted on my WordPress blog when I sync.
I tried a number of palm blogging software available on the Web. None of those software worked. Most of the m-blogging tools required real-time Internet connection. I found one, though, that piqued my interest. It's called AvantBlog. It lets users to post entries on their blog through AvantGo, a free service that allows users to download websites to their PDA when they sync. (I've been using AvantGo for a few years now to read the mobile version of INQ7, NYT, Time, and my blogs.) I thought I could use AvantBlog, but I later learned it was compatible only with Blogger.
I once tried answering comments on my blog using AvantGo by entering text on the form and tapping submit. After I synced, I noticed that my reply was posted on my blog. Then I thought that if I could post comments though AvantGo, why couldn't I blog using the same tool? I later found out that it was actually possible.
If you are a WordPress user with a Palm, here's a step-by-step guide:
1. Create an AvantGo account.
2. Create a Personal Channel.
a. In the title field, enter any name you want to call your channel, i.e., "New Blog Entry". I called mine "Post to ederic@cyberspace".
b. In the location field, enter the URL you use when creating a new blog entry, i.e. http://yoursite.com/wp-admin/post.php
c. Enter a desired channel size in Maximum Channel Size field. I only used 200K. In the Link Depth field, enter 0. Since you'll use the channel only to post, AvantGo does not need to download other pages. Choose No in both Follow Off-Site Links and Include Images fields.
d. In the Channel Refresh portion, you may choose the default values.
See the screenshot below: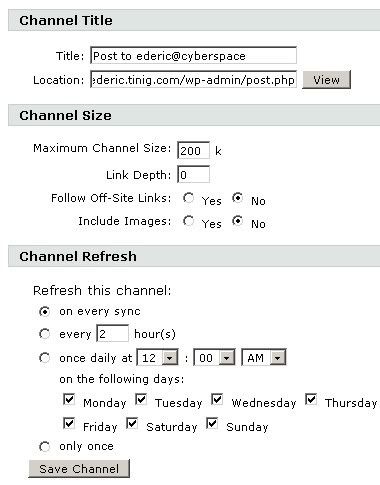 3. Save your new Channel.
4. Do a Hotsync. If you encounter connection problems, refer to the help section of the AvantGo site or e-mail me.
5. Check out the AvantGo program on your Palm. If everything went okay, you should see a new channel. Tap on it, and you will be redirected to a log-in form. Enter your blog username and password, then tap login.
6. Sync your Palm again. Tapping on the channel will bring you to a "Write Post" page. Compose your entry, then tap submit.
After another sync, your entry should be posted on your blog.
For those who have Treo and other Palm models that have Internet connection, you may want to try u*Blog.
---
Ederic is a Filipino communications worker in the telecom, media, and technology industry. He writes about K-dramas and Korean celebrities for Hallyudorama.
He used to be a social media manager for news at GMA Network, where he also headed YouScoop, GMA News and Public Affairs' citizen journalism arm.
He was with Yahoo! Philippines for more than three years before returning to GMA Network, where he was also previously part of the News Research section.
Author posts