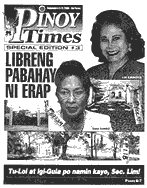 Last year, during the height of the "Last Quarter Storm" against the ousted President, buying a copy of Pinoy Times Special Edition — the brave, little newspaper created and maintained by brave, principled journalists — on a Saturday noon would only bring me disappointment: the paper gets sold out early in the morning. Too bad for late risers like me.
Pinoy Times and the people behind it courageously exposed the truth about the series of scandals that led to the ouster of Joseph Estrada. While most of the mainstream media were then still lenient towards Estrada, Pinoy Times, together with the Philippine Center for Investigative Journalism, Philippine Daily Inquirer, CyberDyaryo, among other print and online newspapers and sites, informed the public of the wrongdoings of the leader of the past government.
Time changes, however. When I visit the news stand nearest to my place later today, most probably I will not be able to get a copy of the Special Edition, just like before. This time, however, it will not be because I would be late for the last copy. It will be more like due to the current economic crisis that the Special Edition had to write 30. Pinoy Times Special Edition Editor Pete Laca — who is my favorite Pinoy Times columnist, along with Manuel L. Quezon III — announced this sad news in his e-group yesterday.
But Thank God, the regular edition of Pinoy Times is here to stay. I buy a copy of almost every issue of Pinoy Times even if we have it at our office, as a sign of support for independent journalism. This intelligent tabloid, however, definitely needs our support most especially now. I ask all my friends and site visitors, especially those in Pilipinas to please buy Pinoy Times, which comes out Monday to Friday. If possible, subscribe! The telephone numbers of their circulation department are (632) 9132364 and (632) 9129822.
Support an independent press. Support Pinoy Times. Maraming salamat.